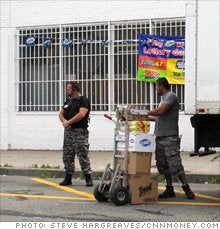 Hunger hits Detroit's middle class
http://money.cnn.com/2009/08/06/news/economy/detroit_food/index.htm
"DETROIT (CNNMoney.com) -- On a side street in an old industrial neighborhood, a delivery man stacks a dolly of goods outside a store. Ten feet away stands another man clad in military fatigues, combat boots and what appears to be a flak jacket. He looks straight out of Baghdad. But this isn't Iraq. It's southeast Detroit, and he's there to guard the groceries.
"No pictures, put the camera down," he yells. My companion and I, on a tour of how people in this city are using urban farms to grow their own food, speed off.
In this recession-racked town, the lack of food is a serious problem. It's a theme that comes up again and again in conversations in Detroit. There isn't a single major chain
supermarket
in the city, forcing residents to buy food from corner stores. Often less healthy and more expensive food."
Forget about robbing a bank, armored car, and Seven Eleven. It is now the food delivery in Detroit. Who would have ever thought the food delivery gig would become a high risk job. It is so high risk, you get your own personal security guard protecting the food. And the dude is in a flak jacket.